Customer Charter Promises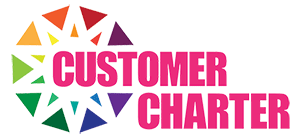 Our six Customer Charter promises...
Consider the customer's needs
We always strive to ensure that our broker and customer's needs are met. For example, when a broker escalated a case to us recently, one of our team members picked it up and ensured that the issue was rectified before the end of the day.
When we found out that one of our brokers would like to take a trip around the Lloyd's Building with three of their managers, we duly obliged and gave them a tour last week.
Provide an efficient and accessible service
With one 'on the road' team and another office based support team, we feel we have our bases pretty well covered when it comes to the service we provide to our brokers. Markerstudy is known for being quick off the mark and this is something we try to reflect at all times within our own work ethic.
Come rain or shine our Broker Managers can be found travelling countrywide to meet with brokers, existing and new, to discuss their ideas and accounts.
One of our brokers recently asked for a brief but fairly urgent catch up to discuss one of our products. Despite it being the summer holidays, we made sure that the meeting was arranged within 7 days.
Be fair, honest and transparent
One of our brokers disagreed with us about a recent audit so we quickly arranged to meet them to go over the concerns on both sides, explain our reasoning and putting a plan into motion to move forward.
Be realistic
We always strive to meet our broker's needs whenever we can but we still remember to be realistic about what is and isn't possible so that they aren't disappointed if things don't go as planned. Communication is key and so we always aim to keep our brokers up to date with progress and let them know if there are any issues.
Strive to protect our customers and our business from fraudulent activity
Counter Fraud is very much embedded into our processes and we discuss how to target and combat fraud with our brokers on a regular basis.
With some of our larger broker accounts we regularly provide detailed fraud MI and hold operational meetings specifically to discuss counter fraud initiatives with experts from both sides.
One of our brokers was recently highlighted as having a poor audit and accounts issues. In order to protect our customers we terminated the relationship.
Innovate and Improve
We always welcome feedback from our brokers and will work with them to improve processes if things aren't working or could be done better
Our 'Meeting of Minds' broker get-togethers are a good example of these, where we invite brokers to meet with us and discuss company policy, products, changes or market trends.
Whenever a broker approaches us with a new idea, even if it isn't suitable for us, we always strive to offer our support and advice. An example of this is where we recently met with a broker to discuss tools and gadget insurance. Although we weren't able to offer help directly, we put them in touch with Supercover and they have agreed to go down this route instead.