Wednesday September 28, 2016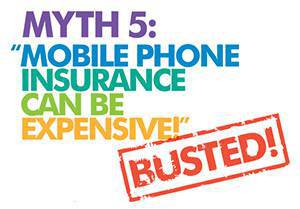 With Over 20 years' experience, the team at gadget and mobile phone insurer, Supercover, have seen some tall tales in their time when it comes to gadget insurance. With the help of Operations Director, John Fannon and Business Development Manager, Bernie Nunn we've put together a complete guide of common myths below, so that you can tell fact from fiction:
MYTH 1: "If my customer claims, then my business gets a commission clawback."
FACT: With Supercover, the number of claims paid does not affect your commission because all claims are paid from the Insurer's Fund. Supercover offer unlimited claims and NO CLAWBACK on all genuine policies.
MYTH 2: "Insurers don't pay out - they try to wiggle out of claims."
FACT: In 2015 Supercover only refused 3.8% of all claims received*, so you can offer our insurance and be confident that it 'does what it says on the tin'.
*Claim data taken from 1st Jan 2015 – 31st Dec 2015 for all claims relating to insurance sold via our Mobile Phone Dealer Channel.
MYTH 3: "My customers aren't looking for mobile phone and gadget insurance."
FACT: "In Jan 2016 there were 80,700¹ Google searches for Mobile Phone Insurance, and other related keywords². And demand is increasing because that's a 15% increase on the same period in 2015!³ That's a lot of revenue you're missing by not offering this type of insurance."
¹Data source: Figure taken from the Average Monthly Searches in Google Keyword Planner Tool for January 2016. ²Keywords include: Mobile Phone Insurance, Phone Insurance, iPhone Insurance, Mobile Insurance, Cheap Phone Insurance, Best Phone Insurance, Gadget Insurance. ³Compared with 70,200 - the Average Monthly Searches January 2015.
MYTH 4: "Gadgets are covered under business or home insurance."
FACT: These policies don't always cover items taken outside of the business or home, and rarely provide extended warranty. Also, the average excess for a home policy is £318¹ versus £50² with Supercover, and a claim with us will not result in a loss of any no-claims bonus.
¹Average home policy excess taken from 42 insurance providers on ComparetheMarket.com. Policy quote carried out on 23 June 2016 is based on £50,000 contents cover and includes a £250 voluntary excess.
²Supercover's excess is £25 for a gadget up to the value of £250 (when new), £50 for a gadget between the values of £251 - £500 (when new), and £75 for a gadget over the value of £501 (when new).
For more information on Gadget Insurance, please email Bernie or email John.
0 Comments