Tuesday January 10, 2017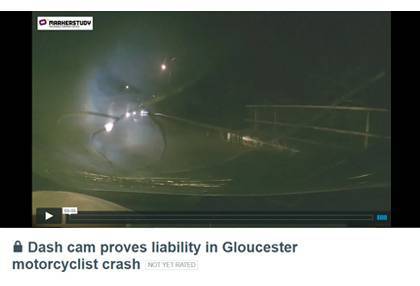 Markerstudy today released the footage of a serious incident to highlight the importance of in-vehicle CCTV technology. The video shows their policy holder driving along the road when a motorcycle comes out of nowhere onto the wrong side of the road and crashes straight into the vehicle.
Gary Humphreys, Group Underwriting Director for Markerstudy commented: "We thought that it was important to showcase how vital dash cam footage can be when an incident occurs. In this case the injuries of the third party are serious and we know immediately, looking at the video, that fault does not lie with the policy holder, meaning that we can put their mind at rest when they are, naturally, very shaken by the event."
The Group has been investing in in-vehicle CCTV technology since 2012, subsequently launching its own in vehicle technology company in 2015, VisionTrack, specialising in a more affordable high definition cameras that also monitor driving behaviour.
Simon Marsh, Managing Director of VisionTrack commented: "This is a perfect example of why I'm so passionate about driver safety and the use of cameras to support better driving. The video shows the brutal reality of an incident but is important because it highlights that a dash cam leaves no room for uncertainty. We can see exactly what happened and I believe that the use of cameras going forward has the potential to transform driving behaviour on our roads."
The policy holder commented: "From my perspective the benefits of dash cameras certainly outweigh the initial outlay in cost as if you are unlucky enough to be involved in an incident, the footage never lies and can be used in your defence. Therefore in theory it should also help to speed up insurance claims."
Gary added: "This footage was instrumental in processing this claim quickly, ultimately benefitting all those involved. In this instance we have provided the policy holder with complimentary renewal on their insurance and one of VisionTrack's high definition cameras to show our gratitude for such responsible driving."   
0 Comments