Monday June 21, 2021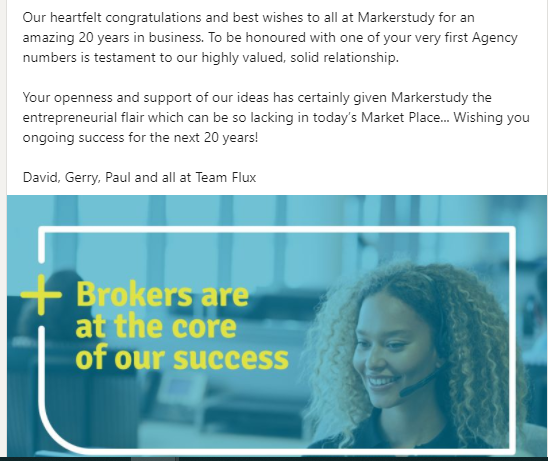 Here are few of the kind messages from our brokers to celebrate Markerstudy's 20th anniversary:
"I have many special and holarious memories, but what I'd like to share is that Markerstudy really are there for their brokers in times of adversity."
Mike Joseph, Right Choice
"The best thing about Markerstudy - Old Skool!
People that talk to you like people, and not like coporate robots - everybody knows where everybody stands"
Tony Buckingham, Buckingham Insurance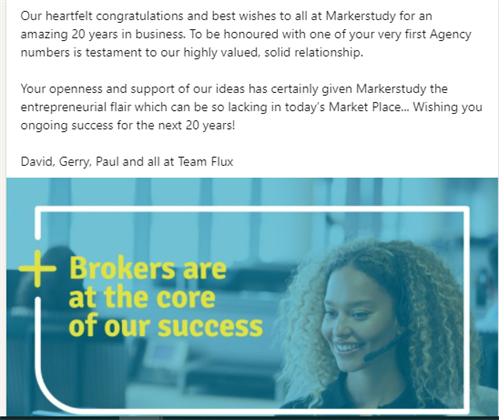 Great to hear from one of our original brokers on our 20th anniversary, thank you for your ongoing support Kevin Slowther.
"Congratulations to all the Markerstudy team on their 20th anniversary in business.
I feel honoured and privileged that I was one of the two original agents appointed by Markerstudy at the outset.
They have been the recognised leaders in "Insurer" and "Broker" relationships. From day one they changed the dynamics with their commitment to supporting the broker market, making it possible to have direct access to an Underwriter.
I would like to wish Kevin, Gary and everyone at Markerstudy every success in the future."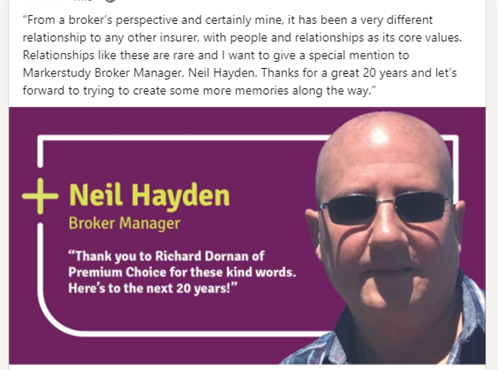 0 Comments