Monday July 4, 2022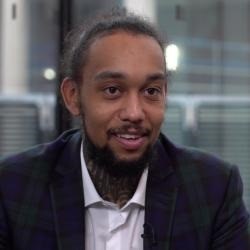 We are so pleased to announce that Jordan Lewis is representing Markerstudy in the Claims Apprentice 2022 competition run by Insurance Post. Jordan, a Claims Handler, is one of six finalists taking on a variety of team-based and individual tasks in London, judged by head sponsor Kennedys, Christopher Dunn where only one Apprentice will be declared the winner! Jordon has already completed three days of challenges and commented:

"Firstly, I could not turn down the opportunity to expand my own knowledge and to get my name out into the insurance world. I mean, it's not every day you get accepted onto something as fun and exciting as this. I love the experience so far, and would highly recommend the Claims Apprentice to anyone wanting to do something life-changing. It will really open your eyes to the adventure that the insurance industry can take you on. Finally, all I know is that I will represent my team leader Kelly Sandiford, my team and Markerstudy to the best of my ability." We wish Jordon the best of luck in the final!
Watch Episode 4
The final six claims apprentices are set for their biggest challenge yet for their third task. The two teams must devise a 'sustainable claims' solution which relates to an insurance company's wider environmental, social and governance agenda. They will then film a short video to promote their solution but which team will pass the screen test with flying colours
Watch Episode 3
Episode 3 of The Claims Apprentice - the shopping task!

Can Markerstudy Insurance's Jordan Lewis and team make it back with all of the items without going over time?

Watch episode three to find out. 
Watch Episode 2
Now that the final six contestants in the Claims Apprentice 2022 have been put into teams and decided on names, it's time for the apprentices to tackle their first task!

'Devise a technical or procedural solution to enhance and/or improve the claimant's customer journey - then pitch it!'

Watch episode two now to discover how Markerstudy Insurance's very own Jordan Lewis got on with Team Unite.
Watch Episode 1
Jordan Lewis from the claims team at Markerstudy is through to the finals of the Claims Apprentice competition run by Insurance Post. Jordon is one of six finalists all vying for the prize of becoming the 2022 champion.

The candidates will need to impress Christopher Dunn of sponsor Kennedys' who will declare only one candidate as the winner.

Watch episode one to meet Jordan and the five other candidates and discover why he decided to take part in the Claims Apprentice 2022. 
Written by Charlie North
0 Comments