Wednesday May 4, 2016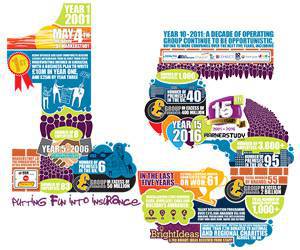 Markerstudy Group of Companies, is celebrating 15 years of business today. Founded by Group CEO, Kevin Spencer and Group Underwriting Director, Gary Humphreys on 4th May 2001 and renowned for brands Zenith Insurance, Markerstudy Insurance and Auto Windscreens, the business has benefitted from a string of successive achievements and impressive accolades, including 42 award wins in the last three years alone, a 'Gold Standard' tribute from Investors In People and 'Extraordinary' status in The Sunday Times 100 Best Company to Work For, for four years running.
The entrepreneurs, who joined forces in 2000 with hopes to write £10M in business in year one, now control a turnover of over £2 billion, with 55 brands, 95 properties and almost 4,000 staff.
The Group released the '15' infographic to celebrate its meteoric growth and will mark the milestone with its very own mini Glastonbury-style festival, 'MSG Fest', held at recent acquisition, Bewl Water in Kent, along with over 3,500 employees, family and esteemed friends.
Gary Humphreys, Group Underwriting Director, commented: "We simply cannot believe how far we have come in this relatively short time. We've already far exceeded our own expectations, and now enjoy raising our own bar! Our success has been due to good instincts, tenacity, courage and a fair bit of luck. But I must also extend a heartfelt thank you to our fantastic employees, brokers and insurer partners, without whom, none of this would be possible. All have played a considerable part in our short but exhilarating journey and we can't wait to see where the next 15 years takes us."
0 Comments