Friday May 11, 2018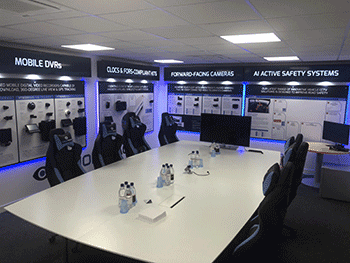 Our leading in-vehicle video telematics provider, VisionTrack, has unveiled a new technology room at their headquarters in Tunbridge Wells to showcase its new offering in deep learning and AI.
Designed for partners and adopters of its cutting edge technology, the technology room will display the full package available to clients including VisionTrack's newest ADAS cameras which detect driver fatigue, smoking and using a mobile phone at the wheel.  
VisionTrack also introduced a new First Notification of Loss (FNOL) service last week (www.FNOL.co.uk) which is available to white label, allowing businesses to log in via a single sign on directly to the platform, seamlessly combining live event footage, statistics and telematics data in a bid to cut costs and potential fraud for claims management companies and insurers.  
Simon Marsh, Managing Director of VisionTrack commented: "We've embarked on working in the AI space with machine to machine learning, evolving our IoT platform to incorporate cameras that are so advanced that they will recognise and alert potentially hazardous driving behaviour such as using a mobile phone whilst driving or falling asleep at the wheel. This data could be invaluable to insurers in predicting risk ratio and potential hazards before they occur. I'm delighted that we have incorporated a dedicated technology centre into our business to give our partners maximum support for our rapidly expanding offering."
0 Comments