Wednesday November 5, 2014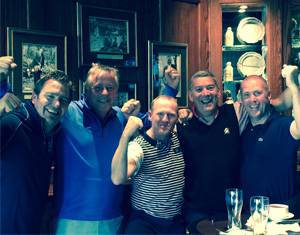 Markerstudy Group and Be Wiser Insurance 'clubbed together', bidding £20,000 at a charity auction to compete in The Simpson Cup, a golfing tournament in aid of the On Course Foundation which encourages disabled ex-servicemen to take up golf. The companies invited the cream of the insurance crop to travel with them to Washington DC to take part in the Ryder Cup-style charity challenge, each covering the costs of their own flights in their bid for glory.
'Team Markerstudy', led by Martyn Holman, Group Commercial Director for Markerstudy Group and Paul Copeland, Group Business Development Manager, included Gary Eggleton (Connected Media), Ian Donaldson (Autonet), Leighton Wilcox (Insurance Collections Bureau Ltd), Allan Hunter (Midas Underwriting), Stephen Duffy (Ashgrove Insurance) and Brendan Devine (Sure Thing). They battled Be Wiser's finest, led by Mark Bower-Dyke, Nigel Taylor and Glyn Evans, along with Mark Cliff (Ageas), Phil Bunker (LV), Douglas Young (Canopius), Darren Taylor (Flint & Co) and Mark O'Shaugnessey (Crusader).
The main event began on the 5th October at the prestigious Congressional Golf Club where ex-servicemen from the UK and USA competed in the official tournament. Over the next three days the insurers took part in an array of scheduled events where talk soon turned to handicaps, drivers and 'putting' against each other. Highs (a hole in one), lows (balls in the water) and triumphant and abysmal performances ensued in equal measure but in the end there could only be one winner with Markerstudy clinching the overall lead. Needless to say, Be Wiser were a bit 'teed off' over the final result but both teams came together for a final celebratory meal and drinks, complete with commiseration speeches and victorious banter before heading home to 'Blighty'.
Martyn Holman, said: "The On Course Foundation is an incredible charity supporting disabled ex-Servicemen in order to help restore self-confidence and a sense of purpose after injury. We're very proud to have supported The Simpson Cup in aid of the Foundation and hope to make this a regular partnership with Be Wiser Insurance to ensure that the great work of the charity continues. Thanks must go to all our broker and insurer partners who took part and were great sports, I think that it's safe to say that both teams thoroughly enjoyed the trip."
For more information about The Simpson Cup and On Course Foundation please click here.
0 Comments