Monday November 17, 2014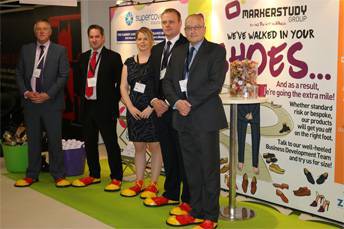 Markerstudy Group 'went the extra mile' at this year's Broker Expo North where Business Development team members, Paul Copeland, Neil Hayden and Matt Tozer, alongside Bernie Nunn from Supercover and Natalie Higginson from Zenith Insurance's Underwriting department, were seen 'clowning around' in an array of outrageous footwear. With scheduled footwear changes which ranged from animal slippers to glitter encrusted '70s platforms, they introduced a host of new products on the Markerstudy stand.
Zenith Distinction IHR, which offers Insurer Hosted Rating, Brightbox, the UK's first mileage-based broker specific telematics policy and mobile phone/gadget insurance brand, Supercover, widened the group's 'footprint' and offered brokers the 'perfect fit' for their business.
The 'walk in your shoes' themed stand also offered free stress balls and travel shoe polish along with a chance to win £500 worth of Selfridges vouchers for the brokers with the fastest times on its BATAK Wall. 
Gary Humphreys, Group Underwriting Director, said: "It wouldn't be a Markerstudy stand without 'shoehorning' in a bit of extra fun. Well done to Chris Jolly from Autonet and Chloe Needham from Lifestyle Insurance Brokers who were victorious in the BATAK challenge!"
0 Comments