Tuesday March 3, 2015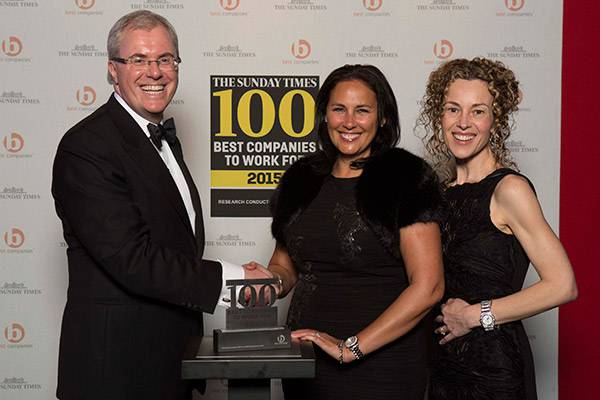 Unreservedly modest, you'll normally find us hiding our light under a bushel, ahem, so you'll have to excuse us for basking in our own glory for a moment. After demonstrating unfaltering strength in the face of tough competition, we are celebrating our third year of success at The Sunday Times 100 Best Companies to Work For Awards, maintaining the position of 11th 'Best Company to Work For' in Britain.
Following a glittering awards ceremony at Battersea Evolution on Thursday 26th February, we managed a Best Companies 'hat trick', beating off stiff opposition and making it into the top 20 for the third year running with 'Extraordinary' status, three stars (the highest) and glowing statistics to match. Guests attending included Phil Bunker (LV), Brendan Devine (Sure Thing!), Ian Donaldson (Autonet) and Mike Lee (Hastings Direct).
Surveys conducted as part of the awards found 87% of our staff said they were excited about where our company is heading, taking it to 3rd place overall and 82% of employees said that the company has a plan that they can commit to (top ten score). Furthermore the company was ranked 5th for wellbeing with 82% of staff saying that they love working for Markerstudy and 85% citing Kevin Spencer, Group CEO, as an inspiration (6th place for most inspiring leaders).
Tanya Gerrard-White, Director of HR and Talent Development commented: "To once again be 11th 'Best Company to Work For' in Britain is a dream come true for Markerstudy. We're passionate about maintaining our culture, and rewarding and recognising our staff and we're thrilled that this 'winning formula' has been acknowledged by Best Companies and our employees themselves."
0 Comments