Friday May 29, 2015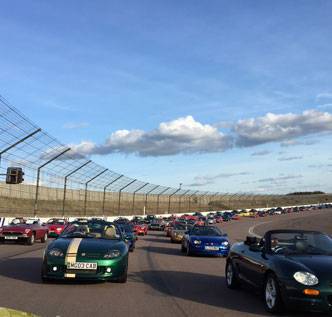 Part of our Retail division, we're thrilled to announce that Lancaster Insurance is an official GUINNESS WORLD RECORDS™ title holder following its successful completion of the 'Largest parade of MGs'. The parade took place on Saturday 11th April at Rockingham Circuit in Corby, Northamptonshire; where 144 MG owners and lovers united to take part in a world first.
The idea was dreamed up by marketing and lead to a parade on the Oval Track, the UK's only banked Oval and Europe's fastest motor racing circuit, with an array of classic and modern MGs in attendance. An official GUINNESS WORLD RECORDS adjudicator oversaw the nail biting attempt, confirming on the day that a new record had been set.
Richard Morley, Lancaster Insurance's Operations Director comments: "We're immensely proud to have set a brand new GUINNESS WORLD RECORDS™ title with the help of MG enthusiasts from all over the country! This would not have been possible without the support of the MG community. We are thrilled to have created a piece of history as a group."
Watch the video below...
0 Comments