Thursday September 10, 2015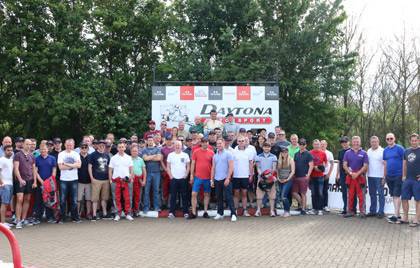 The Markerstudy team revved up their competitive streak on Friday 10th July when they challenged insurance's finest to participate in a day at premier race karting venue, Daytona.
Brilliant sunshine greeted the 73 drivers from the cream of insurance who gathered at the Milton Keynes track. Brokers, insurers and supply chain clients came from far and wide and included key contacts from Autonet, BGL, Grove and Dean, Carole Nash, Adrian Flux, Tesco and Europa. The 18 teams, each led by a Markerstudy Group host, vied to be crowned champion of the 1360m International Circuit, widely considered to be one of the best in the UK. The race format was a two hour endurance event featuring regular driver changes, a mandatory fuel stop, the occasional spin-out and two black flags for over-zealous manoeuvring (mentioning no names…)!
There were some strong teams boasting top quality racers but it was the 'Mad Hammer' trio, ably led by Clive Fulcher, that eventually piped Ruth Robinson's 'Raving Riders' to the post by just 0.2 seconds! An incredibly tight finish considering the 120 minute race duration.
Anthony Foster, Head of Broker Performance Management and ignominious recipient of the race marshals' 'Calm Down' board, commented: "It was a brilliant day, thanks to all our guests for making it such a superb event and see you again next year!"
Photo Gallery
0 Comments